Welcome to Carmona Siberian Huskies!
Contact us for rescued huskies needing a home. We currently have 1 red male Siberian husky puppy available in February.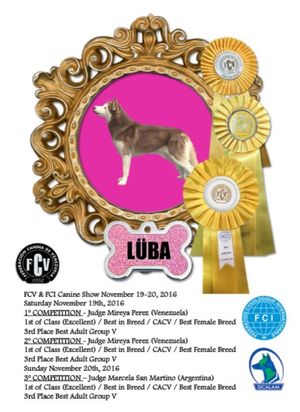 Contact us!
Check out our Blog below for new guest articles.To the right is Glory's daughter, Luba, winning shows throughout Venezuela and Argentina. Go girl!

CLICK to READ the article on Dogtime Magazine about our kennel.

We are a small family run AKC Siberian husky kennel located in Haines City, Florida. We began rescuing dogs more than 20 years ago as a hobby. Even though we have rescued different breeds of dogs in the past, we also began to pursue an old time dream of rescuing and raising healthy and beautiful Siberian huskies for shows. We no longer breed puppies.

Our goals are:
To rescue abandoned huskies in central Florida and provide a safe home until a permanent home is found
To educate the public about this wonderful breed and make them aware of the joys and nuances of raising Huskies.
NOTE: We no longer breed puppies. We rescue only... From time to time, we have puppies from our sister kennel. Ask for more information.
To advance the breed by breeding healthy puppies free of congenital problems backed by a 3-year guarantee
To breed for temperament and quality for those who cannot take a rescued adult Sibe home for legit reasons
To provide our dogs with loving/nurturing forever homes
100% of puppy profits go to our rescue efforts
Please, feel free to peruse through the site and give us your feedback. Our 
resources
 section will also give you lots of education and entertainment. You can also read about huskies in our Blog:
The Truth about Siberian Huskies
.
Before you leave our site, make sure you sign our
guestbook
.
In addition, join our rescue efforts on Facebook with our group,
Carmona Kennels, Inc. Siberian Husky Rescue.
Contact us for our qualifying puppy and/or rescue questionnaire/contract. You are also welcome to come and visit our Sibes at any time!
NOTE: We do not sell to brokers or pet stores!



www.i-love-dogs.com
Newsletters Sent a Few Times Per Year

Pets 4 You Awards quality Pet Websites for Dogs, Cats, Birds, Reptiles, Pet Supplies, & Siberian Husky sites.
Carmona Kennels

Only given to
Cool K9 Websites!

You are visitor number: 151886